---
---
PREMIUM GPS MULTISPORT WATCH FOR MULTISPORT & TRIATHLON TRAINING
Train smarter and discover the winner within yourself with Polar Vantage V, a premium multisport watch designed for pro athletes – and for anyone who trains like a pro. If you're looking for a high-end waterproof companion with ultra-long battery life for triathlon or marathon training, Polar Vantage V is the perfect match.
CUTTING-EDGE SPORTS TECH
The latest wearable tech innovations make sure Polar Vantage V gives you all the accurate data you need to maximize your performance.
TOP SOLUTIONS FOR HEART RATE MONITORING
Polar Vantage V works with different heart rate tracking solutions to provide you the optimal heart rate monitoring method for your sports.
MONITOR YOUR RUNNING POWER
Polar Vantage V measures running power from the wrist - no additional foot pods or sensors needed.
WINNING DESIGN MEETS MILITARY-LEVEL DURABILITY
Polar Vantage V has won design awards and passed several military standard tests, including extreme temperatures, drop and humidity.
OPTIMIZE YOUR TRAINING
If you want to train like a pro, you need to recover like a pro. Polar Vantage V helps you find the right balance between training and rest and stay injury-free with a uniquely holistic training load and recovery tracking solution.
KNOW HOW YOU TRAIN
The new Training Load Pro™ gives you a comprehensive view on how your training sessions strain your body in different ways.
PREVENT OVERTRAINING AND INJURIES
See whether your body is ready for training and get recovery feedback with Recovery Pro™.
MORE THAN A SPORTS WATCH
When you train with Polar Vantage V, you get access to the full Polar ecosystem where everything is connected. All your training data is conveniently available on one platform in Polar Flow.
You can also automatically sync your training data to other services such as Strava or TrainingPeaks.
THE ULTIMATE TRAINING PLATFORM
With extensive training planning and analysis tools, an automatic training diary, progress reports and much more, Polar Flow will help you achieve all your training goals.
DATA FOR YOUR COACH TOO
Share all your training data with your coach, get instant feedback and plan your season together with your coach with the free Polar Flow for Coach service.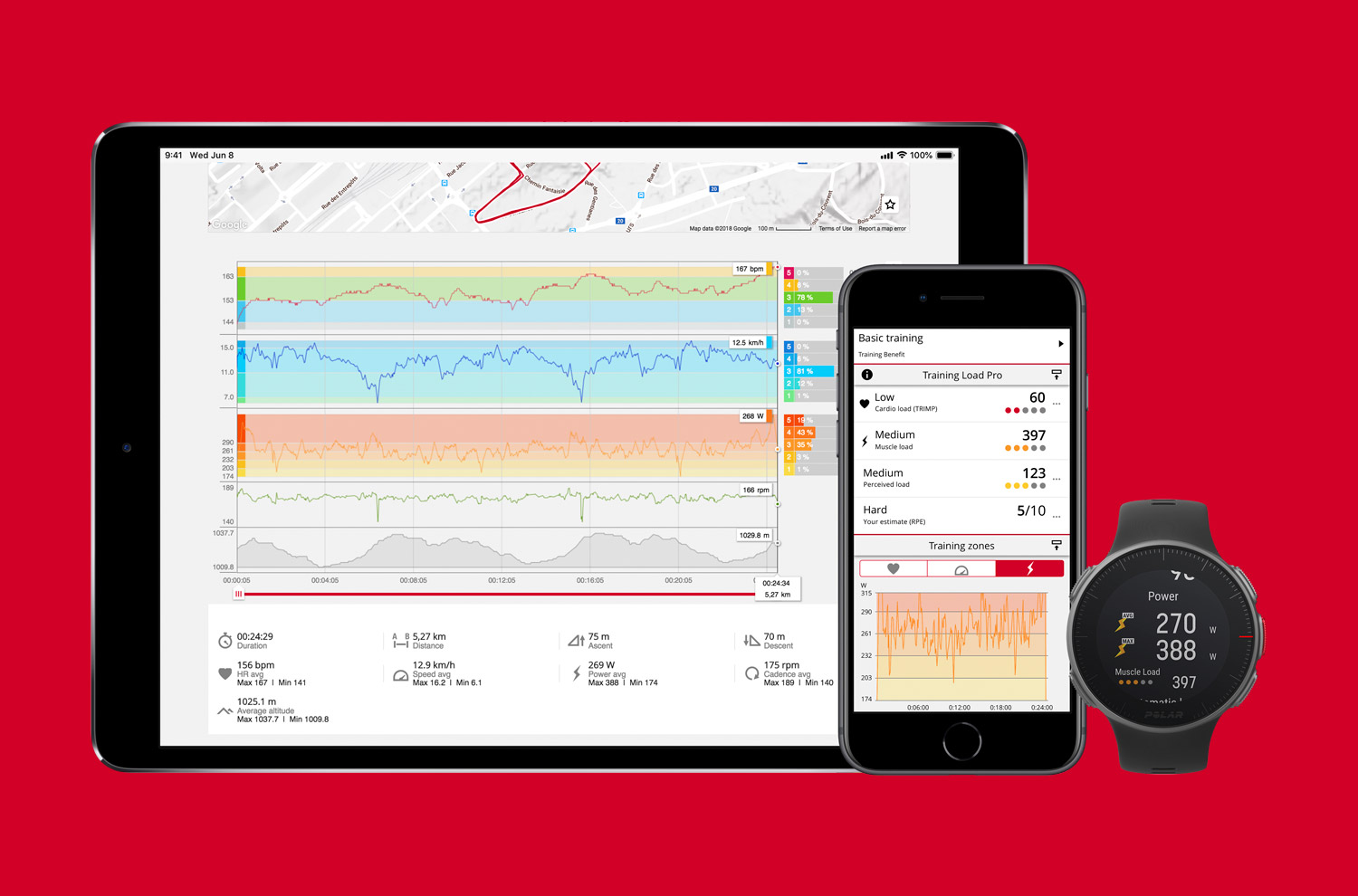 Technical Specifications

- Measurements
46 x 46 x 13 mm

- Weight
66 g with wristband, 44 g without wristband.

- Materials
Extreme high strength stainless steel case. Glass fiber reinforced polymer back cover.

- Display
Always on color touch display. Laminated Gorilla glass lens with anti-fingerprint coating. Size 1.2", resolution 240 x 240.

- Battery
320 mAh Li-pol battery. Battery life up to 40 h in training mode (GPS and wrist-based heart rate) or up to 7 days in watch mode with continuous heart rate tracking.

- GPS & Barometer
Integrated GPS & GLONASS. Assisted GPS for fast fix times. Barometric altitude, incline, ascent and descent.

- Connectivity
Bluetooth Low Energy. Custom USB cable for charging and data synchronization.

- Watch
Time & date. Vibrating alarm with snooze.

- UI languages
English, German, French, Italian, Dutch, Norwegian, Spanish, Portuguese, Swedish, Finnish, Danish, Polish, Russian, Turkish, Indonesian, Czech, Japanese, Chinese (simplified)

- Sensors
Compatible with all standard BLE heart rate sensors and running cadence and power sensors as well as cycling speed, cadence and power sensors.

- Water resistance
Waterproof (WR50)

- Wristbands
Durable and comfortable silicone.
S: wrist circumference 130-185 mm
M/L: wrist circumference 155-210 mm

- Durability
Tested against military standards (MIL-STD-810G).
Comparison Table
| | | |
| --- | --- | --- |
| ACTIVITY | Polar Vantage M | Polar Vantage V |
| Serene™ breathing exercise | • | • |
| Nightly Recharge™ recovery measurement | • | • |
| | • | • |
| Sleep tracking | | |
| 24/7 Activity Tracking | • | • |
| Activity Goal | • | • |
| Active Time | • | • |
| Steps and Distance | • | • |
| Activity Summary | • | • |
| Activity Benefit | • | • |
| Inactivity Alert | • | • |
| –TRAINING |   |   |
| FitSpark™ training guide | • | • |
| Training Load Pro | • | • |
| Cardio load | • | • |
| Muscle load | via 3rd party sensor | • |
| Perceived load | • | • |
| | • | • |
| Recovery Pro |   | • |
| H10 heart rate sensor required |   | • |
| Running power from wrist |   | • |
| via 3rd party sensor | • | • |
| Speed and distance from the wrist | • | • |
| Running cadence from the wrist | • | • |
| |   | • |
| Wrist-based heart rate measurement | • | • |
| Heart rate | • | • |
| HRmax | • | • |
| Heart Rate zones | • | • |
| Speed/Pace zones | • | • |
| Power zones | • | • |
| ZoneLock | • | • |
| ZonePointer | • | • |
| |   | • |
| Orthostatic Test |   | • |
| H10 heart rate sensor required |   | • |
| Polar Fitness Test | • | • |
| Running Index | • | • |
| | • | • |
| Training Benefit | • | • |
| Back to Start | • | • |
| Distance | • | • |
| | • | • |
| Sport profiles | • | • |
| User-adjustable training displays | • | • |
| Multisport training | • | • |
| | • | • |
| Galileo | • | • |
| QZSS | • | • |
| GPS | • | • |
| A-GPS | • | • |
| Race pace | • | • |
| Route guidance |   | • |
| Speed/Pace | • | • |
| | • | • |
| Training history | • | • |
| Training diary | • | • |
| Interval Timers | • | • |
| Laps, manual | • | • |
| Laps, automatic | • | • |
| Swimming Metrics | • | • |
| Tap gestures |   | • |
| Autostop/start | • | • |
| Stopwatch | • | • |
| Countdown Timer | • | • |
| Barometer |   | • |
| –CADENCE SENSOR BLUETOOTH® SMART FEATURES |   |   |
| Cadence | • | • |
| –SPEED SENSOR BLUETOOTH® SMART FEATURES |   |   |
| Speed | • | • |
| Distance | • | • |
| –STRIDE SENSOR BLUETOOTH® SMART FEATURES |   |   |
| Cadence | • | • |
| | • | • |
| Average stride length | • | • |
| Speed/Pace | • | • |
| –DEVICE |   |   |
| Setup via mobile | • | • |
| |   |   |
| Training time | 30h | 40h |
| Measurement |   |   |
| Weight | 45g | 66g |
| Display | • | • |
| Color display | • | • |
| Color touch display |   | • |
| Resolution | 240X240 | 240X240 |
| Water resistance | WR30 | WR50 |
| Rechargeable battery | • | • |
| USB cable | Custom | Custom |
| Bluetooth Smart | • | • |
| Phone Notifications | • | • |
| Audio alerts |   | • |
| Vibration alerts | • | • |
| Alarm | • | • |
| Button lock | • | • |
| Backlight | • | • |
| Date and weekday indicator | • | • |
| Time of day (12/24h) | • | • |
| Bike settings for three bicycles | • | • |
| Firmware update | • | • |
| |   |   |
| Season planner | • | • |
| Running Index analysis | • | • |
| | • | • |
| Map view | • | • |
| Relive | • | • |
| Explore | • | • |
| Social feed | • | • |
| Instant activity and training analysis | • | • |
| Advanced activity and training analysis | • | • |
| Training planning | • | • |
| Sport profile settings | • | • |
| | • | • |
| –POLAR CLUB |   |   |
| HR broadcasting | • | • |
| –DATA TRANSFER |   |   |
| Compatibility |   |   |
| Compatible with Mac OS X 10.9 and later | • | • |
| Compatible with PC Windows 7 and later | • | • |
| Compatible with Polar Flow web service | • | • |
| Compatible with Polar Flow mobile app via Bluetooth Smart | • | • |
| Data export | • | • |
| Training history export (from polarpersonaltrainer.com to Polar Flow) | • | • |
| 3rd party compatibility | • | • |
---